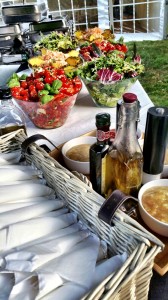 There's nothing better than walking along a sandy beach beneath a blue sky. Saying hello to your neighbours as you stroll along. Thinking about all those exciting plans you have coming up. Well, if any of those plans involve organising a party, celebration, fete, wedding, works do, Hog Roast Westgate-on-Sea can take care of your catering needs.
Whether your tastebuds are craving succulent pork with crispy crackling and sweet applesauce, mouthwatering turkey with juicy cranberries or tender lamb covered in fresh rosemary, our talented chefs can roast any meat you desire. We have many choices for you on our menu, including vegetarian options, so nobody at your party misses out on a delicious dinner.
We also have various packages to suit different styles of event. If you're planning on a three-course meal or would like to greet your guests with canapés on arrival, Hog Roast Westgate-on-Sea can arrange this for you. Can't quite find an option that works for you? No problem. We will work with you to personalise a menu you are 100% happy with.
A Fitting Feast For Any Occasion in Westgate on Sea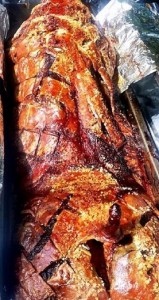 Through our many years of experience, we know how far a whole pig can stretch. Whether you're feeding 50 or 500, no-one will go hungry. If your event is outdoors, we roast under a gazebo, so there's no need to worry about rain putting out the flames. We can also fire up the spit indoors. All we need is access to your venue a few hours before the party begins to start the slow-roasting process. The minute your guests arrive, the sight, sound and smell coming from the spit will set their stomachs rumbling.
Hog Roast Westgate-on-Sea takes pride in providing you with a meal that bursts with flavour. That's why we select ingredients of the highest quality which are locally sourced to guarantee their freshness too. Whether you're tucking into a pork-filled bap or munching on one of our colourful side salads, every bite will taste divine.
Have any questions? You can speak to us on the phone or by email. One of our friendly team will happily go through our menu and services with you.