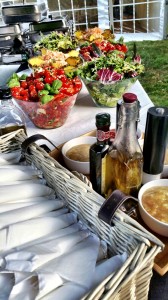 Here at Hog Roast Kent we have always drawn a great deal of inspiration from the stunning county we live and work in; with the benefits of both the countryside and coast, its rolling green hills, dramatic cliffs and seaside towns are a source of inspiration for everyone. We started out 25 years ago with a similar aim of providing a catering service that suits all tastes and occasions, and we take pride in the fact that we still live by this mantra today.
Our extensive menus are constantly evolving, and our portable and multi-functional hog roast machines are the best in the business. This enables Hog Roast Kent to stay at the top of our game and travel the length and breadth of the county to provide unforgettable catering experiences in any location imaginable.
A Menu For Every Occassion
Our traditional, slow-cooked hog roasts always have and always will be the ultimate crowd-pleaser at any event, but with all of our experience, we realise that in order to offer a truly unique service, we need to exceed expectations and offer menu options that do not just please pork-lovers, but everyone else as well. We achieve this by constantly reviewing and adapting our menus to include flavoursome dishes that suit all tastes and dietary needs. Whether you favourite meat is pork, beef, lamb or chicken, we can slow roast it to perfection.
If you have vegetarian guests, they certainly won't go hungry with our exciting array of meat-free alternatives. If your special occasion has a certain theme, we can cook and present the food in a way that fits perfectly with your event. From barns and beaches, to grand hotels and small back gardens, whatever your venue and whatever you want, Hog Roast Kent will always listen to your requirements and offer the flexibility to fulfil your needs.
Hog Roast Catering Without Limits
We do not limit ourselves to events of a certain size or nature; from a birthday party in your own back garden for 20 people, to a seaside wedding for 200, we can be as diverse as the county of Kent itself.
So when you are in the planning stages of your next event and wondering who should take care of the catering for you then look no further, find out more about us and give us a call!