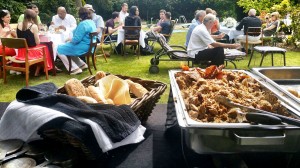 If you're on the lookout for quality Hog Roast Newington services, you've come to the right place. We have been in the catering industry for over 10 years and have had experience in catering for a wide range of events – including weddings, birthdays and corporate occasions to name just a few. Our team of professional chefs and waiting staff will be on hand to ensure your big day is pulled off with success.
Although we want your event to be well-received by your guests, we allow you to take charge of the menus as you know your guests better than we do. Each Hog Roast Newington menu is gives you the opportunity to show off your originality.
Design a hog roast menu your way in Newington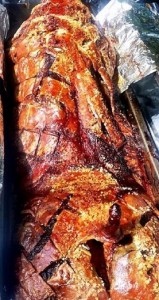 For a hog roast in Newington, there are a vast amount of dishes to choose from; including over 20 canapés, soups, several main courses, salads, potato options and puddings. This is especially important if you have guests that are following stringent diets for health or cultural reasons; including those that are vegan, vegetarian and gluten-free.
If, however, you're hoping to stick to the traditional hog roast, you certainly won't be disappointed. We season and cook the spit roasts to total perfection, having cooked thousands of pigs over the years.
We understand exactly what it takes to cook the pig to achieve that delightful crispy texture and flavour that has made our dishes so popular. We do also serve a range of other meats, including lamb, beef, turkey or chicken – let us know your requirements and we'll be happy to meet your exact needs. Our team of chefs will also be able to offer a professional opinion if you need some advice.
What are you waiting for? Get in touch today to discuss our Hog Roast Newington services with a member of our friendly team.