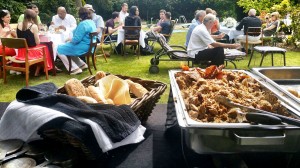 Have a milestone birthday coming up? Or perhaps you're planning the wedding of the year? Maybe you're hosting a corporate function for your colleagues and clients. Well, whatever the event, the Hog Roast Hillborough team are on hand to create a feast fitting for the occasion.
Whether you're planning on taking your party to the nearby coast or holding a get-together in your garden, we can cook up a storm anywhere. Inside or out. As our name suggests, we specialise in slow-roasting pork over a spit. By cooking the meat using this method, it retains its juiciness and flavour. We serve this culinary delight with the crispy crackling and our sweet homemade applesauce. If you prefer other meats though, we offer a wide range of mouthwatering dishes to craft a menu to suit your taste.
No matter how many mouths you need to feed, every single guest will tuck into a memorable meal. We have various vegetarian options and can alter a dish to adhere to anyone's dietary requirements. Hog Roast Hillborough caters to all.
Quality Is Our Top Priority in Hillborough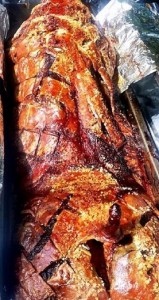 We only use fresh, locally sourced ingredients which we select for their high-quality. Even the machines we use to spit roast the meat are top of the range. Whether you're munching on the meaty main or biting into a seasonal vegetable side, every single mouthful will burst with flavour.
Hog Roast Hillborough can take the stress out of planning your party. We take care of the finer details like sourcing plates and cutlery. If your function is on the formal side, we have a fabulous waiting team who will serve the food to your guests instead of them having to queue. Pending on the package you choose, they will greet your guests with drinks and canapés on arrival.
We offer plenty of variety to you, both through our delicious menu and the extra services we offer. No matter what, we will work with you to create the perfect party at a price you can afford.
Are you hungry to learn more? You can reach us by phone or email. We can't wait to discuss the details of your event.