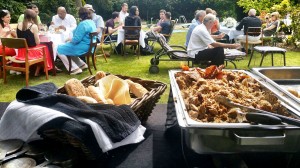 Hog Roast Deal has a variety of catering options to suit your preferences; whether you're on a small budget or large budget or are planning on holding an indoor or outdoor event – there really is no request we don't agree to. Our customers are always pleasantly surprised by our professional service, alongside our delectable cuisine and inexpensive menus.
We're happy to cater to any number of guests, but as a general rule of thumb, the more guests in attendance, the more economical our service is; which will in turn, lower the cost per head and ensure you're getting the most for your money.
Choose your preferred catering style in Deal
Hog Roasts are popular for weddings, business events and birthday parties and we give you the option of a formal or informal catering service, dependent on the atmosphere you're going for You have the choice of a three-course sit-down meal complete with a canape and drinks reception if requested for more formal occasions, while a help-yourself buffet may be best for laid-back events. It really is your call.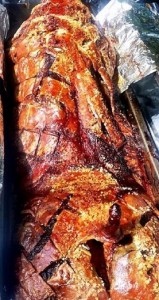 Our Hog Roast Deal menus have been carefully designed by our talented chefs – some of which have had over 20 years in the industry. Therefore, you can breathe a sigh of relief knowing we'll be taking care of all of the hard work for you. If, however, you'd prefer to be more involved in the choice of food – you're more than welcome to take the reins. Our menus can be tailored to suit the needs of yourself and your guests, so no-one goes hungry. As well as our famous spit roasted hog, we have a selection of other meats that may tickle your tastebuds including lamb, beef, chicken and salmon served with a selection of sides and dressings.
If you want to find out more about Hog Roast Deal services, please don't hesitate to get in touch with us today.