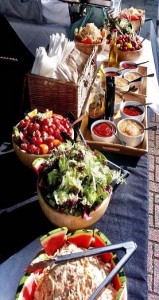 Don't settle for the same tired old stock caterers this year; choose Hog Roast Cuxton instead to bring a bold new dining experience bursting with unique quality to your next event in the village of Cuxton. At Hog Roast Cuxton we've put together a premium dining experience of traditionally made roasts all for one brilliant low and flexible cost. With our speciality in hog roasts and the way in which we prep, spice, and slow roast your foods we have fast become one of the most exciting and unique caterers working in Kent and the UK. So, don't delay today and call us for your weddings, Christmas parties, corporate functions, festivals, anniversaries and more!
What makes Hog Roast Cuxton so special then? The answer lays in our penchant for the classic ways of old, as we've brought back the traditional spit roaster to create a spectacle both of display and of taste. For us, the spit roaster brings back a necessary traditionality back to the roast now with the quality additions of a modern brilliance with the expertise of our elite team of chefs.
With such a combination of old and new we have created a true achievement in roast dining fit to impress at any event. For your event you'll find a fresh preparation beginning early in the day as your roast then slow cooks throughout the day in a dazzling sight of fiery display and a glorious mouth-watering aroma.
We're precise in our methods, and so only once we are absolutely satisfied will you find a perfect roast ready to serve with all of its glorious crispy skinned texture and juicy meatiness.
Better Ingredients for Better Results in Cuxton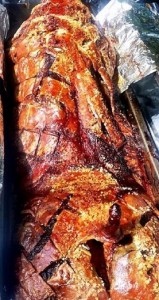 At Hog Roast Cuxton we've ensured quality right through our service. Our methods are so fine-tuned that they demand the very best ingredients and meats to really sing. So, for every one of our meat, vegan, vegetarian, and gluten-free dishes you can be confident in our quality local sourcing from top stocks and ranges to give you the maximum taste pleasure befitting of our name. With buffet and set menu options available there are many ways to dine with Hog Roast Cuxton, and our lovely team will be more than happy to help you choose how.
This level of quality doesn't come often, so call Hog Roast Cuxton while openings are still available now!