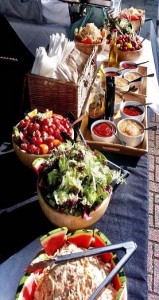 For an all-new food experience to your events throughout Cliffe Woods and the Hoo Peninsula of Kent give Hog Roast Cliffe Woods a call today. At Hog Roast Cliffe Woods we provide fine meat roast catering with a bit of a special difference; our business is in finely made hog roasts cooked with a unique blend of traditional and modern roasting methods that ensures a perfect dining experience for all our guests. Our hog roast provides excellent taste and spectacle to your event as we cook fresh on the day with our genuine spit roaster – a traditional roasting utensil so magnificent in its display and its results!
For this truly brilliant food experience we can bring our services to weddings, corporate functions, birthday's, festivals, anniversary parties and more, all at one low and flexible cost! For your event we bring fresh and quality ingredients to the table to all go into making a fine hog roast and a multitude of brilliant dishes for serving.
With their expertise and our traditional spit roast methods our roast is one of the nation's finest as it comes bursting with exquisite meaty flavour and a perfectly crisped skin for added texturing. A dish this perfect of course needs the perfect ingredients to match.
That's why Hog Roast Cliffe Woods also always puts a strong focus on sourcing the best meats available from local stock since we also believe in pushing business to local industry too.
Dynamic Dining in Cliffe Woods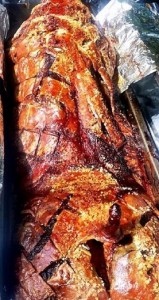 For your events in Cliffe we have curated a perfect list of quality foods for catering in a variety of styles. While we of course always highly recommend our centre-piece hog roast, we're more than ready too with our many meat, vegetarian, vegan, and gluten-free dishes to accompany our namesake showstopper. With this much variety it may be difficult to pick out your perfect buffet list or set menu options, so fortunately, however, our brilliant team are handily here to provide recommendations based on their world class food knowledge and taste for all things delicious.
So, don't delay! Call the team at Hog Roast Cliffe Woods now and bring a unique taste experience to your next event.